COSSI Instructor Biographies
Laurie Clarcq
Laurie Clarcq is originally from Rochester, N.Y. and has traveled the globe as a teacher and a learner. Her classrooms have always reflected her love for language, learning and laughter. The students are, by far, her favorite part of teaching, but she has a special passion for exploring ways to connect students with the curriculum, and teachers with their students.
Laurie is a graduate of the State University of New York at Cortland, and holds a Bachelor of Arts in both Spanish and Early Childhood/ Elementary Education, and a Master of Science in Education with a concentration in Reading and Curriculum Development. She has over 36 years of teaching experience in Spanish and English as a Second Language and has enjoyed working with students at many levels from preschool through university, adult education and professional development. She has twice received the President's Award by the New York State Foreign Language Teachers' Association for her contributions to the profession.'
Laurie has been a presenter, consultant and trainer on a local, state, national and international level. Her recent work in Australia, France and Canada has successfully introduced the skills of Comprehensible Input-based teaching to teachers in other areas of the world. In 2008, She and Michele Whaley of Anchorage, Alaska began to implement an approach to reading that they titled​ ​Embedded Reading​. It has been successfully and joyfully shared with and utilized by teachers internationally. A long-time blogger and contributor to written publications on and off-line, her work can be found on her two websites (www.heartsforteaching.com and www.embeddedreading.com​).
Most important to Laurie is the message that we are human beings teaching other human beings. It is the heart, imagination and spirit that we honor in the classroom, and in life. It is our ability to develop confidence, curiosity and insight in our students that will change the world. It is our ability to appreciate what we each offer our students and each other that will strengthen and honor the profession. Whatever the topic, Laurie loves having the chance to interact with other teachers and connect with other kindred spirits!!
---
Skip Crosby, MS, BSED, BS
Skip Crosby has been teaching Spanish in Maine public high schools for 28.5 years. Skip gained proficiency in the Spanish language during a two-year stay in Colombia after college. While in Columbia, he earned a Diploma de Español como Lengua Extranjera from the Javeriana University in Bogotá, Colombia in 1989. In 1998, he earned a Masters Degree in Spanish from Middlebury College in Vermont. He has taught as an adjunct at the college level for a total of nine years. He also teaches high school Spanish online.
In 2014, Skip was named Maine Foreign Language Teacher of the year, Northeast Conference on the teaching of Foreign Language Teacher of the Year Finalist, Androscoggin County Teacher of the year and the 2015 was the Maine Teacher of the Year, Finalist. Skip earned National Board Certification (NBCT) in 2018. For the past six years, Skip has taken groups of students to Guatemala City to work with Safe Passage, an organization dedicated to helping the families working in the Guatemala City dump with education, food and medical care. Skip lives in Poland, Maine with Beth, his wife of 27 years, his 18-year old son, Gabe, and Lexi, the 9.25 pound Mini Dachshund.
---
Janet Gesme

Janet Gesme is a musician, translator, teacher, wife and mother of two. She earned her Bachelors in Viola Performance from the University of Missouri in 1995 and a Masters in German from Portland State University in 2013. She has played in orchestras across the United States and now makes her home in Bend, Oregon. German, Russian, Spanish, French, Hungarian and Korean are among the languages that she enjoys speaking, reading and translating. She feels blessed to have had the opportunity to translate Christopher Schacht's "Around the World on 50 Bucks" and Martin Schleske's "The Sound of Life's Unspeakable Beauty.
---
Michele Whaley

Michele Whaley has taught languages in Alaska for more than thirty years. She has mentored teachers for the last fifteen, sharing methodology techniques locally, nationally and internationally at language conferences and workshops. A recent focus is on preserving indigenous languages. Michele believes that languages open our eyes to new ways of thinking and communicating, and she works to find and share the most effective techniques for language acquisition. Michele was the 2016 Pacific Northwest Language teacher of the year and she was a national finalist in 2017. She teaches Russian at the University of Alaska and kindergarten through fifth-grade Spanish at Pacific Northern Academy in Anchorage. She has been part of COSSI since its inception.
---
Rachel Kirk
Rachel Kirk has a doctorate in Spanish linguistics applied to the teaching of Spanish, and more than two decades of experience teaching Spanish to students ranging from elementary school through the university level. In the classroom she excels at engaging students and inspiring in them a passion for the Spanish language and Hispanic culture. Other professional interests include Spanish and Hispanic art, literature, and flamenco. She has been recognized as an Outstanding Educator.
---
Duane Schmidt
"I love to learn and to help others learn. Learning a new language is to learn new perspectives and new ways of thinking. It's one of the most exciting – and fun – things you can do." Duane Schmidt lived in Peru for nine years and taught English for professionals there. He taught all levels of academic Spanish for over 20 years at Hutchinson Community College (Kansas). Duane also managed HCC's Workplace Spanish program, offering occupation-specific courses such as Spanish for Law Enforcement, Spanish for EMS Personnel, and many others. Non-language courses taught for HCC include Leadership, Work Ethics (teaching students to play chess as a hands-on lab experience), and Team Development. Duane has taught Spanish for the COCC Community Education Department for three years.
---
John Seasholtz, PhD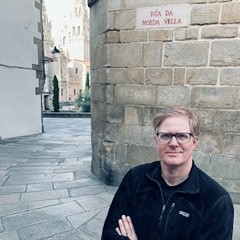 John Seasholtz is a medieval historian whose work focuses on the pilgrimage to Santiago de Compostela. He is particularly interested in the nexus of economics and religion, and the impact of money on power structures and perspectives on morality. His research combines textual evidence from charters and chronicles with visual evidence from sculptural programs, archaeology, and iconography of coins.
Recent academic papers have included 'The Role of Guilds in the Theo-Political Economy of Santiago de Compostela in the Early Thirteenth Century', 'The Church of Santiago of Carrión: Pilgrimage and Urbanization in Twelfth-Century Iberia' and 'The Role of Money in the Devotional Infrastructure of the Medieval Pilgrimage to Santiago de Compostela'. John also produces a podcast called 'The Scholarly Pilgrim' that discusses the history of the medieval Camino de Santiago.
John has walked 2,500 kilometers along various branches of the Camino de Santiago and he often thinks about his next trip along the pilgrim roads. John earned a PhD in History from the University of Birmingham and MBA from the University of Michigan.
---
Holly Graham
Holly has been teaching Spanish at various schools throughout central Oregon since 2010. She has had the opportunity to live in various Spanish-speaking countries the past 30 years and has a deep love for the language and the cultures who speak this beautiful language. She studied in Madrid, lived in Buenos Aires as a newlywed, and later passed the pandemic with her whole family in the Nayarit Riviera of Mexico. She holds a B.A. in history, and a Master's in educational technology. Holly currently teaches in the Criminal Justice and summer immersion Spanish program at COCC. In her free time she enjoys travel, speaking Spanish, cooking, camping, and live music. She has two children (10 and 12) and a 9 month-old Bernese Mountain Dog puppy!